About us
At BikeShala (Bike Abode), we believe in the power of building a strong biker club where everyone can feel accepted and validated.
Being a biker we felt that there are many passionate bikers who want to flaunt their bike life and bike trips, they are looking for Trip partners and that is why we have launced this platform for you to explore following benefits through it.
Digital Biker identity: Get your sharable identity with all your bike life specifics like top speed, distance, trips, Map timeline, your social profiles and lot more. You can now show it in the website section your bio on various social media and youtube.
Trip Memorial: Yes, your trips now have a sharable address where they can be found by anyone interested in that route. A trip contains much useful information like start point, destination point, en-route/stop points, trip distance, expenses, Map timeline, images, approvals, etc.
Find Trip Partners: You can browse through our home to find trips of other bikers and from there you can know about those bikers and can even contact them via provided social profiles.
Get Featured, Tagged & Published: When views on your posted trip get ahead of other trips shared during a particular duration, it gets selected to be among the Featured Trips and get displayed on top of the Bikeshala's homepage and on Bikeshala's social media accounts. It is advisable to share your trips and posts for maximum reach.
Browse through global Bikers content posted on Bikeshala and share your photos, experiences, suggestions, reviews or ask questions among verified Bikers community.
Check out as a sample, how your bike life and trips will look like after completion:
If you have any suggestions regarding any of our solutions or products, feel free to write us at [email protected] or wa.me/917819990220
Our product team
Vishal Sharma
Done 46k+ km on bike, that's more than the earth's circumference. Much more to go. Jupiter ahead!
---
Abhimanyu Singh
Civil to coding; carries the tube; if water found: "Jump"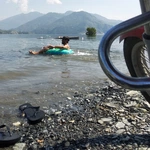 ---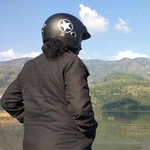 Jyoti Sharma
Done long trips on scooty. Also, handling marketing at Bikeshala
---
Prakhar Singh
Developing frontend, I fear from biking but not from code.